Sunday, June 30, 2013
"Please order at the till."
I'm going to guess it means windowsill.
Says the sign near Westminister Abbey.
—It was closed, otherwise I would have asked. Or just ordered at the till.
Posted by

Sarah Kay
at 5:41 PM
1 comment:

Saturday, June 29, 2013
"No Busking."
It means no street performing of any kind. I know. I would have guessed drug dealing or tap dancing.
Says the sign near the Oxford Circus station.
—Note that in this situation "Persons" a proper noun
Posted by

Sarah Kay
at 5:47 PM
No comments:

The tube. Each station is decorated differently. Thought this one was pretty interesting.
Day two: getting the hang of things. The day started with a trip to the art store to buy a sketchbook. An A5 size sketchbook. Yes.
Then a trip to Borough Market, which was amazing. I took a lot of photos, but on my camera. So you'll have to wait till the end of summer to see those. At the market we bought all sorts of fresh food! Strawberries, baby carrots, apricots, apple, banana, fresh sourdough bread, and brie. It was a good trip. And got a three or four meals for the next few days.
Then, laden with our food, we went to Regent Park, which was beautiful. Queen Mary's rose garden was incredible. I think I have a new favorite flower. Even though roses are a bit cliche. After seeing nearly 100 varieties, and smelling at least 30 of them, they're a hard flower not to love. We ate our little lunch on a bench, and just enjoyed the general splendor.
Asian tourist baby that got tired of riding his scooter.
Lunch.
After that lovely lunch, we caught the tube back to London Bridge station and walked along the Thames to the Tate Modern. Amazing museum. Lots of good things in there. Even just a few hours in there doesn't feel like enough. I'll post about it another night though—I'm so tired!
Another ride on the tube to a place we heard had "free live jazz music and sketch." Turns out it was inside of a restaurant, that was extremely high class. Like people wearing diamonds and party dressed, hopping out of limos and what not. Uh, so we did not go in. They had a bouncer wearing a bowler cap!
We ended up grabbing lunch in a little cafe across the street instead, and eating the rest of our strawberries. The food in London is pretty healthy. I like how they eat. Though it's pricey. But, maybe that's just Europe.
Another observation: things are pretty energy-efficient here. Or, at least use-as-little-energy-as-possible. From low pressure sinks and showers, to tiny cars and a killer public transport system it's been fun to see a very different way of living. Though a little less fun when you have to press a button every 11 seconds in the shower to keep the water flowing. But I'm not complaining. I'M IN EUROPE!
Posted by

Sarah Kay
at 5:41 PM
No comments:

Remarks to her friend:
"Oh that Arthur. What a blood clot."
Says the girl in the brightly colored polyester floral print trousers
—She's wearing trousers, not pants. Because pants are underwear. Overheard while riding the evening rail headed back to the hostel; westbound from Charing Cross.
Posted by

Sarah Kay
at 4:43 PM
No comments:

Friday, June 28, 2013
Can you say breathtaking? And full of famous art? That I've only dreamed about seeing?
Like all these bathers, which are really huge paintings by the way: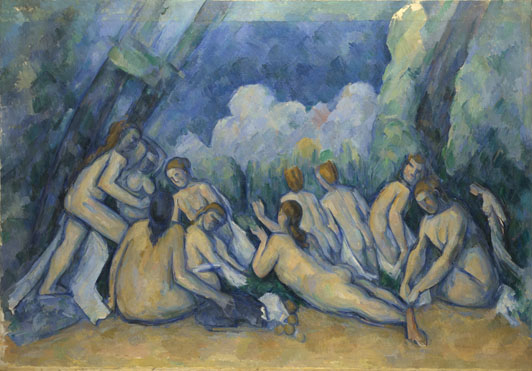 Bathers, Paul Cézanne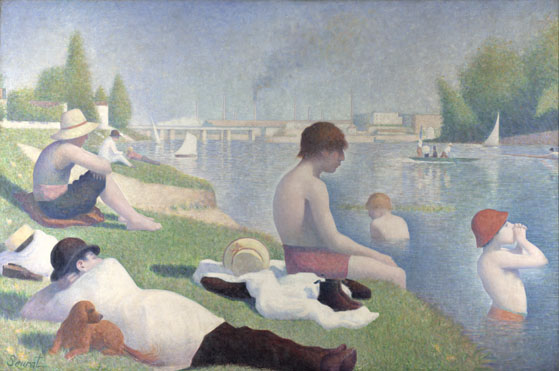 Bathers at Asnieres, Georges Seurat
Or all this Turner: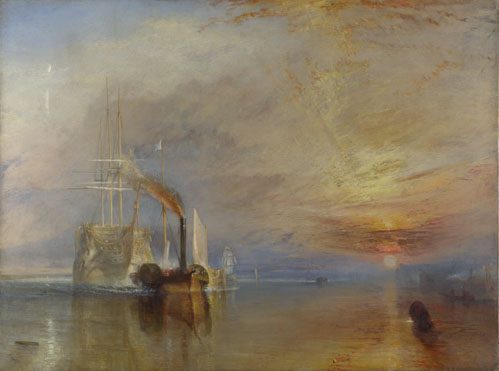 The Fighting Temeraire, Joseph Mallord William Turner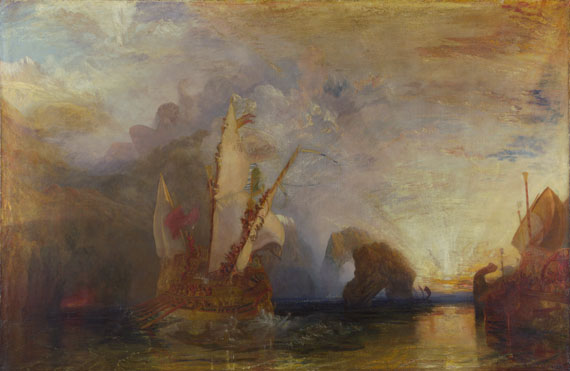 Ulysses deriding Polyphemus- Homer's Odyssey,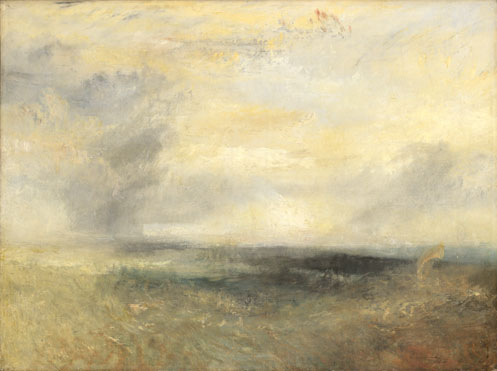 Margate, from the Sea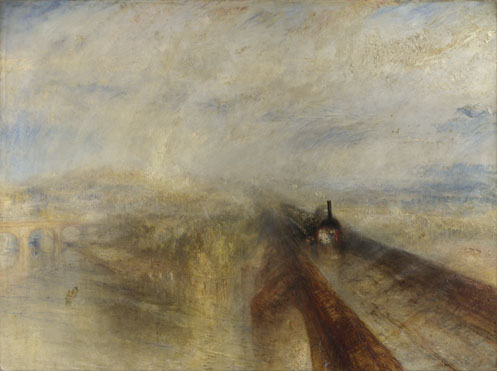 Rain, Steam, and Speed - The Great Western Railway
Or these other peices I recognised: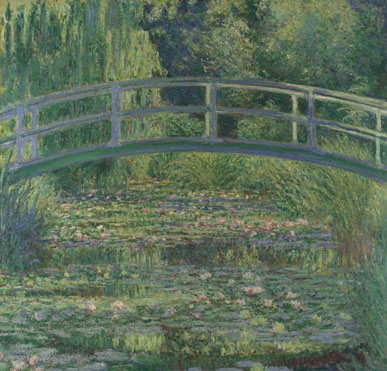 The Water-Lily Pond, 1899, Claude-Oscar Monet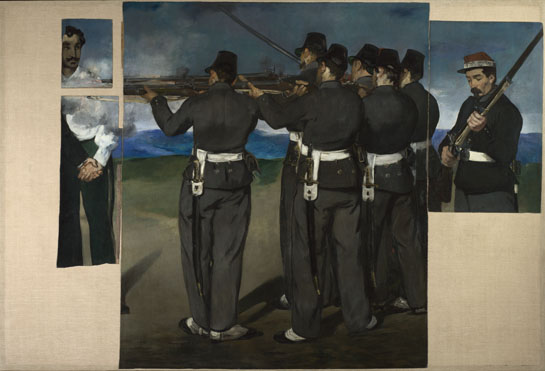 The Execution of Maximilian, Edouard Manet
Portrait of a Man (Self Portrait?), Jan van Eyck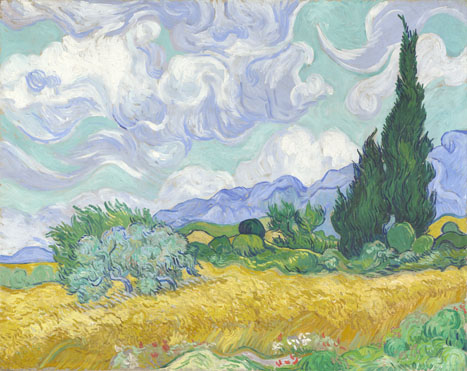 A Wheatfield, with Cypresses, Vincent Van Gogh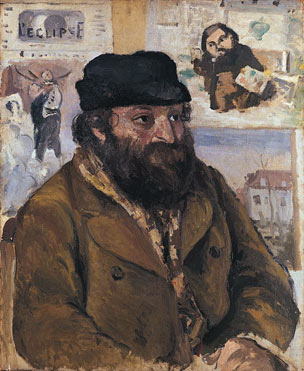 Portrait of Cézanne, Camille Pissarro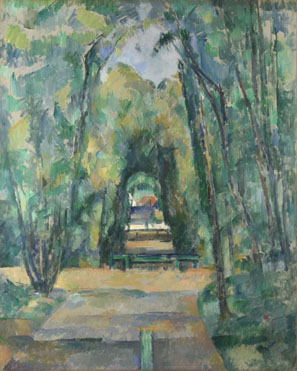 Avenue at Chantilly, Paul Cézanne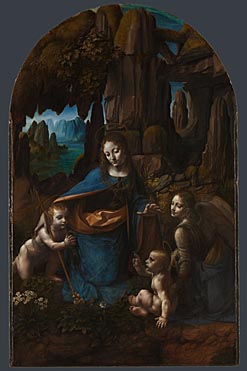 Virgin on the Rocks, Leonardo da Vinci
Van Gogh's Chair, Vincent van Gogh
Or these pieces that I didn't recognise, but really loved: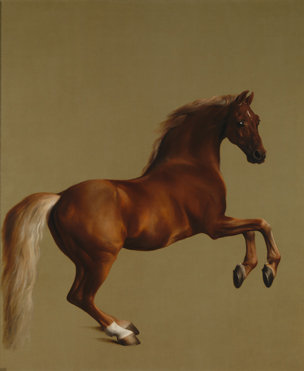 Whistlejacket, George Stubbs

The composition on this one is so beautiful. Stunning. I love the placement. Oh, and this is life-size.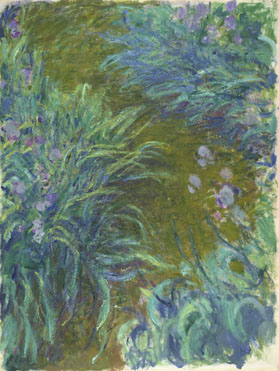 Irises, Claude-Oscar Monet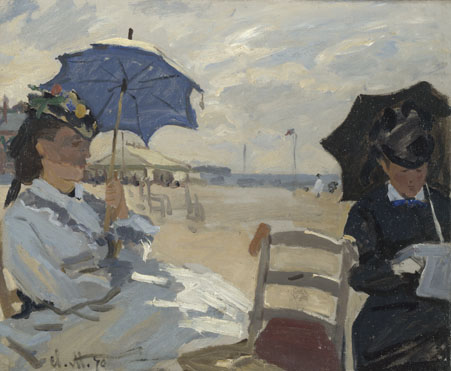 The Beach at Trouville, Claude-Oscar Monet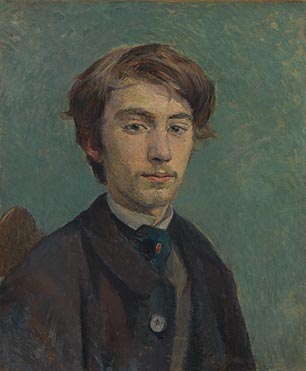 Emile Bernard, Henri de Toulouse-Lautrec

Old school Lautrec! This is before he hit his stride and found his own voice and style, and then eventually changed the world with his graphic and bold litho posters, to the point of ending up getting a full class period of lecture in HIstory of Graphic Design class two years ago. Thank you Professor Hale! Glad I paid attention.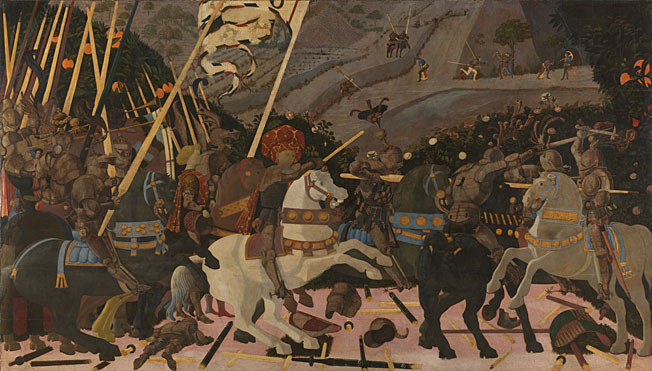 Battle of San Romano, Paolo Uccello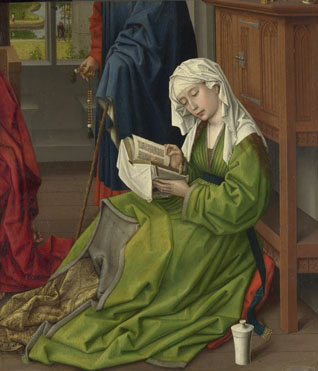 The Magdalen Reading, Rogier van der Weyden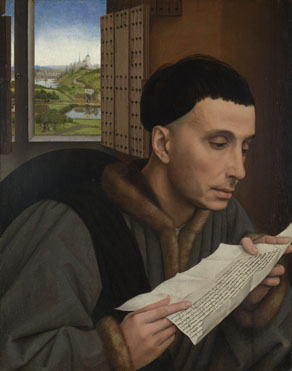 A Man Reading (Saint Ivo?), Rogier van der Weyden

I love this one and the one above because of the calligraphy that is included. In both portraits, the detail is incredible, sharp, and (if you can read latin) clear enough to read. But I think what I really love is seeing people interact with printed/written words, just a few years before the press was invented. Amazing. Thank you Professor Duvall, Honors Civ 2: the Power of Printing.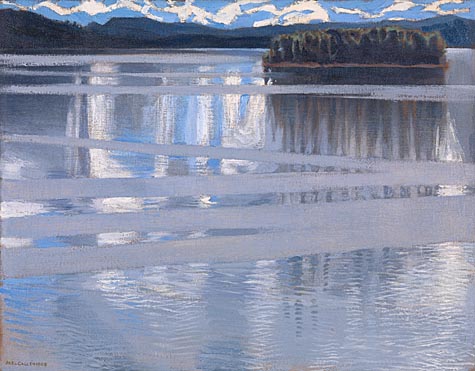 Lake Keitele, Akseli Gallen Kallela
But I think the crowning moment of the visit was this:
Giovanni Arnolfini and His Bride, Jan van Eyck
And Sarah Kay, who is not a Bride
Mom and Dad, this one's for you. Thank you for teaching me art my whole life, and from such a young age! I was able to appreciate so much art, and I've never ever taken an art history class. I think that goes to show some extraordinary parenting. This painting was everything and more than what Mom described with such detail and love on more than one occasion.
All in all, it was an amazing visit. I bought an overpriced postcard of that cute couple to paste in my sketchbook. When I get one...
As we exited the museum (at closing. they shuffled us out, three minutes early) we saw this lovely view:
I spy Big Ben. And a Gay Pride concert.
The National Gallery. An amazing collection. Great way to end the day.
And then saw the front of the museum. Turns out we had originally entered the museum from the back way through the gift shop.

It was probably the best way to spend a Friday night in London.
Posted by

Sarah Kay
at 6:13 PM
No comments: